Back in January we managed a pretty civil dialogue on new gun laws enacted in New Hampshire so given some recent developments I thought it was time to renter the murky waters of the Second Amendment while doing my best to avoid the quicksand. There are three things I thought I'd touch upon – the growing movement to promote open-carry, the upcoming April 19th Second Amendment March in Washington DC, and the recent judicial decision upholding the gun regulations introduced by the Washington DC Council after Heller. 
klonopin online no prescription
Open-carry seems to be the flavor-of-the-day for gun rights enthusiasts. Except for the isolated incidents last summer when health reform opponents showed up at town hall meetings with guns on their hips, I first started to hear about this movement when groups in California began to arrange meetings at Starbucks and other venues with a single purpose in mind – to proudly exercise their legal right to carry in the open. An article in the NY Times suggested the idea "is to make the case for liberalized concealed weapons laws by demonstrating how uncomfortable many people are with publicly displayed guns." An interesting idea but I doubt that is the intention of 95% of those participating in the events. Rather they simply want to carry publicly because they can and there's an opportunity to exercise that right with like-minded people. And that
strikes me as an incredibly short-sighted, dumb idea. To be clear, I'm not arguing against their right to do just as they're doing; but is the goal to exercise that right in a cavalier fashion and the hell with the public response? Or is there a bigger goal for gun rights enthusiasts – specifically, to ensure that no additional gun control measures are enacted by state and local law? Do these people think open-carry makes the people around them feel more or less safe? The answer, in case you have any doubts, is a resounding LESS SAFE. And when people feel less safe by seeing private citizens carry guns openly they are more likely to support initiatives to more severely restrict those rights. Further, if I'm not mistaken, in many states that require permits for concealed carry a gun may often be owned and carried openly by any jerk with a drivers license, no training required. The whole idea of this is totally counterproductive to the cause of unrestricted Second Amendment rights. Flaunting it just scares people. 
ambien online no prescription
On April 19th there will be a major rally in Washington DC called the Second Amendment March. This will be the culmination of many state and local events in recent weeks promoting gun rights especially among supporters of open carry. Last week, for example, some 300 gun rights advocates showed up at the state capital in Lansing, Michigan to exercise their right to carry and to oppose any future efforts to introduce gun control legislation (though to the best of my knowledge there is nothing in the works in Michigan on this front). The state legislature does not permit guns in the state building but they waived the rule for the day. Many participants carried holstered handguns and several had rifles slung over their shoulders as they watched the proceedings from the visitors gallery. According to the Detroit Free Press "the event was organized over the last year in response to concerns that President Barack Obama and Democrats in Congress might seek tighter gun controls." However, according to the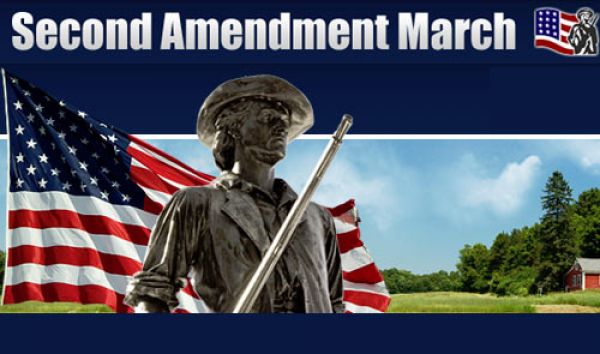 event organizer, since those fears had not been realized the event became "more of a celebration." But doesn't it seem more than a little odd to allow demonstrators opposed to gun regulations to appear in the state house armed? Isn't there an implicit threat to any legislator inclined to propose or support gun control legislation? If the subject was gasoline taxes and opponents of a gas tax stood armed in the visitor gallery watching the debate….well, I don't get it. 
buy phentermine online without prescription
Anyway, the "celebration" is scheduled to continue next week in DC though to what purpose I don't know. The argument is to make clear to our federal government that they shouldn't pass any laws that may infringe on the right to bear arms. Uh, okay, but is there any chance of that happening anytime soon? Maybe assault weapons but Obama clearly took a pass on that issue despite campaign promises to the contrary. So what's the big fuss? None I guess – it's a celebration! Whatever. At the same time, however, across the Potomac in gun-friendly Virginia an anti-government rally organized by those likeable folks at Oath Keepers (remember them? The group of patriotic, Constitution-loving servicemen and law enforcement officials who vow not to follow any order that in their humble opinion is unconstitutional) will take place and all are urged to attend with weapons in tow. These events have been scheduled for the 235th Anniversary of "the shot heard round the world" that started the battles at Lexington and Concord. It is also the 15th anniversary of the bombing of the Murrah Federal Building in Oklahoma City. Once again I must ask, are these people stupid or what?? You want to have rallies in support of gun rights and against our government on the anniversary of the day Timothy McVeigh and Terry Nichols killed 168 people, many of them government employees?? Unbelievable!!! 
buy valium online without prescription
Last but not least is the recent ruling by a Federal judge upholding DC gun regulations enacted following the Heller decision in 2008. Second Amendment March participants will be going to Washington unarmed because DC law still does not permit open carry (Heller only allowed for gun ownership in ones home for personal protection). Among the laws enacted by the DC Council and challenged in the recent case (brought by Mr. Heller himself and others) were a one weapon per month purchase limitation, firearms registration with a three year renewal, required ballistics tests, and prohibitions on assault weapons and large-capacity magazines. The judge said the limitations were reasonable given an important government interest in public safety as well as consistent with the SC ruling from Justice Scalia. The decision will certainly go to the Federal appeals court but not before the Chicago gun case ruling expected from the Supreme Court in June. 
buy tramadol no prescription
Stay tuned.
ativan online no prescription
buy xanax online
buy valium online
buy valium online